&nbsp
Genome-enabled discovery of biomass
degrading enzymes for bioenergy
production.

&nbsp
Welcome!
My research laboratory seeks to improve the production of renewable bioenergy through the discovery of novel biomass-degrading enzymes and other key enzymes used by biomass-degrading organisms. Aim 1. By examining cellulosic environmental niches, my laboratory will identify previously uncharacterized cellulolytic microbial communities and characterize their cellulolytic potential. Newly identified microbial communities will be subjected to multi-metaomics analyses to identify key biomass-degrading enzymes. Aim 2. Using these metaomics datasets to identify genes and proteins of interest, high throughput functional analysis using gene synthesis and cell-free protein expression will be performed to elucidate the recombinant enzymes' activities toward plant biomass. Aim 3. Phylogenetic analysis will be performed to identify multifunctional biomass-degrading enzymes from the enzyme family of interest such as glycoside hydrolases. Analogous approaches described in Aim 2 will be used to discover biomass-degrading enzymes and proteins with potentially important roles (i.e. Highly expressed genes; Abundant proteins in the meta-environments). In this study, protein engineering approaches will also be attempted to improve biofuels technology. Aim 4. Most recently, we started working on the in vitro chromatin reconstitution to understand diverse molecular mechanisms in the eukaryotic nuclei.
News & Updates
2020.4.1 The new fiscal year has started as of today. We welcomed a new student Ms. Kanako Ushirogata. Updated "Members"




2020.3.25 Unfortunately, the graduation ceremony was canceled today, but I would like to congrats both Akane and Kei-ichi who completed their B.S! From April, they will enter the graduate school, and hope we all will enjoy and establish something good!


2020.3.15 Ms. Petra Bank is officially accepted as a Ph.D student. She will start working with us this September, if the situation gets better. We all hope so.


2020.3.12 Updated "Publications".


2020.2.12Kazuki has completed his M.S. degree. The master's thesis presentation in English was an excellent presentation, and also I was happy to see a wonderful 40-page master's thesis in English. It was a little quick for three years, but I am grateful. I sincerely hope that there will be much more happiness in your long life. Please come and stop by in the future!


2019.12.26 Ms. Wakana Sato stopped by the office and gave me some updates. After Wakana completed her bachelor here in Sapporo, she moved to the U.S. to continue her research career in the graduate school at the University of Minnesota. I look forward to hearing more stories in the future from you, and good luck with everything!

2019.12.23 We celebrated the last week of 2019 with Dr. Takeda's lab and two guest students from the Lab of Mol Biol. Overall, we had a good year, and hopefully 2020 will be a fruitful year for us all.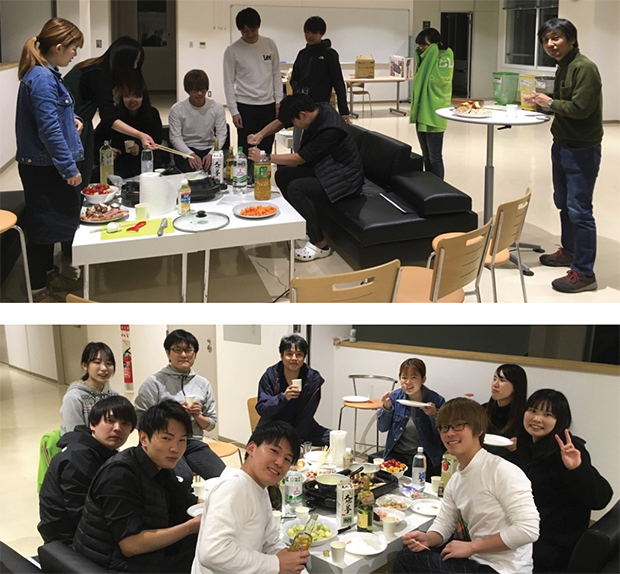 2019.12.3-12.7
Kazuki, Akane, Kei-ichi, and Takasuka attended the 42nd MBSJ meeting in Fukuoka. Kazuki presented a poster entitled "Development of epigenetic enzyme screening method using
in vitro
reconsituted Drosophila nucleosome.", Akane gave also a poster presentation entitled "Molecular mechanisms of a novel xylan-responsive transcriptional regulator in the cellulolytic
Streptomyces
sp. SirexAA-E.", and Kei-ichi presented a poster of "Development of epigenetic enzyme screening using
in vitro
reconstituted human chromatin.".


2019.11.13
Prof. Brian Fox stayed for a week with us, and all lab members welcomed him at Izakaya. Everyone seemed very happy there!!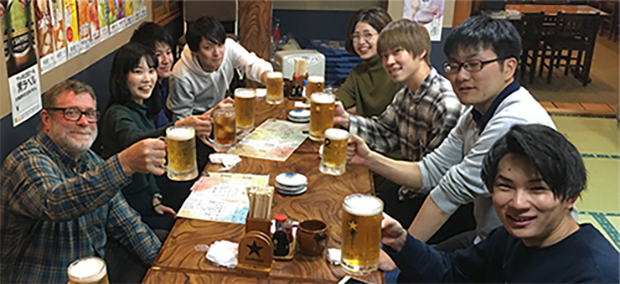 2019.10.28
Updated the page of Lab members.

2019.9.29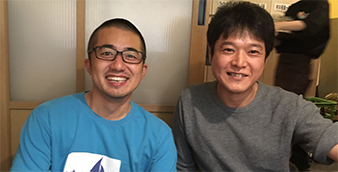 Mr. Shuzo Oita, Ph.D student at the University of Arizona, visited the lab. He was almost an initial lab member and greatly contributed to the lab setup. Always exciting to meet you, Shuzo! I look forward to hearing from your completion of Ph.D soon!


2019.9.19
We had a farewell dinner. Petra, see you again and all for the best!!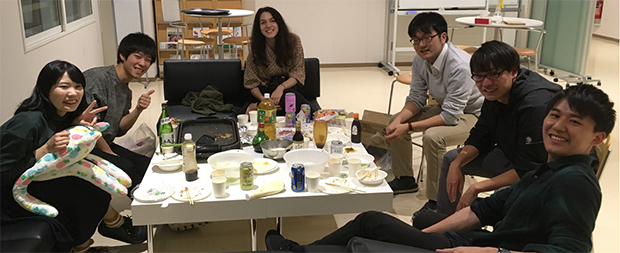 2019.8.28-8.30
Takasuka attended the JST Innovation Japan 2019, and gave poster presentation.

2019.8.6
The joint lab meeting/Hungary-Japan special seminar took place. Around 10 speakers gave a sweet talk on their research, and I was grateful to see everyone's improvement. Good job Keisuke, Kazuki, Akane, and Kei-ichi for your talk!! After the meeting, we enjoyed BBQ party.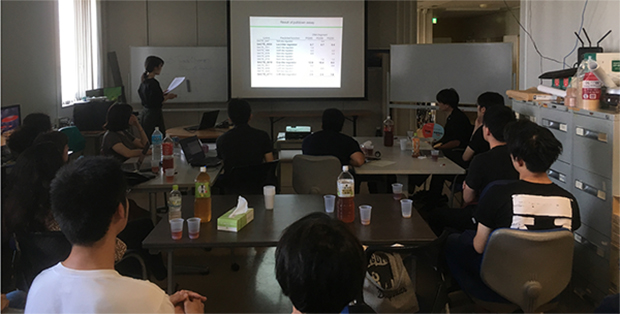 2019.8.3-8.19
Dr. Nagy Szilvia visited the lab to do some experiments. I hope we will get lots of good data! She is always very energetic.

2019.8.2
Ms. Nang Naunge completed her master defense. Congrats. Her next stop will be continue graduate study for Ph.D. Good luck!

2019.7.25
We attended the International symposium on biodiversity in the global food system at Sapporo. Keisuke and Kazuki gave a poster presentation, and Keisuke won the best poster award. Congrats Keisuke!

2019.7.24
We welcome new lab members, Mr. Hataya and Sasaki (both BC3) from the department of Applied bioscience. We will update their info sometime in September.

2019.7.17-7.25
Prof. Atsumi from UC Davis visited us. He taught several classes and also we had fruitful discussion about our collaboration.

2019.6.20-
Ms. Petra Banko joined the lab as an exchange student from Hungary. Back in Hungary, she works with Dr. Nagy Szilvia, and Petra will work on the project of protein kinase and ubiquitinase enzymes.

2019.6.17-6.20
Dr. Yoshikuni from the US-DOE, Joint Genome institute visited our lab. He has also been a faculty member at Hokkaido U Gi-CoRE, and we will (hopefully) soon start research collaboration.

2019.4.1
The fiscal year H31 started as of today. We welcomed a new research student Ms. Luo. Let's make our laboratory pleasant, and productive.

2019.3.25
Keisuke and Riho completed their master's and bachelor's degrees. Keisuke will stay in the lab to pursue his Ph.D, and Riho will work in the company. Congratulations to both of you!

2018.10.23
We held welcome party for Akane and Kei-ichi.


2018.10.12
Another great news from our lab. Keisuke was awarded the JSPS DC1 fellowship!! Congrats Kei and keep going!!

2018.10.1
We welcomed two new undergraduate students, Akane Nakata and Kei-ichi Okimune (
see current members
). Akane's project will be a genome-editing of our cellulolytic bacteria for industrial use, and Kei-ichi will focus on the method development using the in vitro chromatin reconstitution for epigenetic enzyme screening.

2018.8.10
We are very proud of Dr. Nagy who was just offered a prestigious Hungarian grant, and she will start the new project as a PI at Semmelweis University, Hungary after December 2018. Our lab and her group in Hungary will collaborate several research projects closely!! Congrats Szilvia!!

2018.8 - 2018.9
Takasuka spent all summer in the Prof. Fox lab, Department of Biochemistry, University of Wisconsin -Madison to push forward several collaborative projects.

2018.7.13
Takasuka gave an invited talk at Cellulase Meeting, Nagano

2018.6.20 - 7.2
Takasuka and Kazuki visited Denmark for
overseas fieldwork
.

2018.4.14
Takasuka was nominated as 2018 grant recipients of
Inamori Foundation
.

2018.4.1
New fiscal year started! Now our lab members are as follows, Postdoc Szilvia, MC2 Keisuke, MC2 Naunge, MC1 Kazuki, and BC4 Riho. We will aim for higher!!

2018.2.21
Natsumi and Kazuki successfully passed their bachelor defense. Both of them gave a good talk, and nicely hundled questions. Congrats!! Natsumi will start a new job at Ministry of Land, Infrastructure and Transport, and Kazuki will continue his research in the graduate school. They are our official first students, and overall I really appreciated their great contributions in the lab.

2018.2.5-2.6
We launched the international symposium. Keisuke gave a poster presentation, and Takasuka gave a talk.
More detailed info at Gi-CORE GSF site
.

2017.12.6-12.9
Szilvia, Keisuke, and Kazuki presented their projects at
the Consortium of Biological Sciences (Conbio) 2017, Kobe
, and Takasuka attended the Collaboration seminar on career path for young researchers as a panelist. Well done everyone!

2017.10.25
Added a new publication. Congrats Keisuke!!

2017.10.1
Ms. Riho Suzuki and Naunge Nang (from Myanmar) joined as new lab members. Welcome back Riho, and welcome Naunge!

2017.8.29
Takasuka gave an invited talk entitled "Omics and genome-enabled technology to understand phylogenetic-based enzyme functions" at the 2017 Joint conference of the societies for environmental microbiology, Sendai Japan.

2017.8-2017.9
Takasuka spent summer in the US department of energy - Joint Genome Institute, Walnut creek CA, to create new research collaborations. Takasuka also visited Prof. Shota Atsumi at Department of Chemistry, University of California, Davis to discuss our research.

2017.4.1
We have two new lab members, Dr. Szilvia K. Nagy from Hungary (JSPS fellow) and new graduate student, Mr. Keisuke Ohashi. Welcome!!

2017.2.8
Added a new publication entitled "Optimization of simultaneous saccharification and fermentation conditions with amphipathic lignin derivatives for concentrated bioethanol production" Bioresour Technol. This study was collaboration with Prof. Uraki's group, and led by Dr. Cheng. Congrats Cheng!

2016.12-2017.3
Takasuka conducted a research in the Prof. Fox lab, Department of Biochemistry, University of Wisconsin -Madison, as a honorary fellow.

2016.10.15
Two new lab members, Ms. Natsumi Kato and Mr. Kazuki Matsumoto, joined in the lab. Welcome you two!

2016.6.1
Added a new publication entitled "Evolution of High Cellulolytic Activity in Symbiotic Streptomyces through selection of expanded gene contents" PLoS Biol.

2016.5.12
Ben did successfully defended today at U Wisconsin -Madison. Congratulations Dr. Minkoff!!

2016.4.1
Song Ruop joined our lab from Nankai University, China. Welcome! He will be focusing on studying the cellulolytic fungi isolated from the woodwasp for their biomass-degrading activity as well as proteome.

2016.3.21 - 3.24
Takasuka attended the US Department of Energy User Meeting at California.

2016.3.3 - 3.4
Takasuka attended the research collaboration meeting at Kyoto University, and gave a poster presentation entitled "Characterization of lignin degradation by fungal and bacterial enzymes from wood devastating insect symbionts".

2016.2.20
Publication list was updated.

2016.1.31 - 2.26
Our research collaborator, Dr. James Ellinger from the University of Tokyo joined our team!!

2015.11.21 - 11.25
Professor Cameron Currie (
http://currielab.wisc.edu
) from University of Wisconsin - Madison visited our lab, and he gave a talk entitled "Overview of insect-microbe symbionts in natural ecosystem".

2015.7.3
Professor Daisuke Kihara (
http://kiharalab.org
) from Purdue University visited our lab, and he gave a talk entitled "Predicting gene functions in biological contexts".

2015.8.21
After a summer of fun research Ben, Wike and Richard returned safely to their home countries!

2015. 6.25
Takasuka chaired the session "Genome enabled approaches for comprehensive understanding of life" and gave a presentation entitled "Genome-enabled discovery of biomass-degrading enzymes for bioenergy production" at the Annual Meeting of the Protein Science Society of Japan.

2015.6.18
Ben Minkoff from the University of Wisconsin-Madison joins the lab via the
NSF-EAPSI program
, and Richard Precious from Nigeria joins via HUSTEP.

2015.4.15
Wike Zahra from Indonesia joins the lab via the
Hokkaido University Short-Term Exchange Program (HUSTEP)

2015.3.22
Professor Takasuka joined the
US Department of Energy User meeting
at California.

2015.3.21
Dr. Ellinger left the lab to start a faculty position in the
Active Learning of English for Science Students (ALESS)
program at the University of Tokyo.
Check out professor Ellinger's new homepage!
.

2015.1.7
Dr. James Ellinger
visits the lab for 3 months.

2014.11.4
The Takasuka lab opens at Hokkaido University!